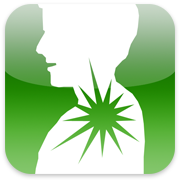 English Pronunciation Therapy Vol.1-6

Category: Education
Release: 2010/11/14
Languages: English, Japanese
Requirements: Compatible with iPhone, iPod touch, and iPad.Requires iOS 3.0 or later
The Essence of English: Pronunciation!
English Pronunciation Therapy
The Jingles: "The Final Word in English Pronunciation Therapy"
Even in this age of computerization and the Internet, the essence of English remains in HOW IT SOUNDS.
Acquiring a nativelike command of English pronunciation through "English Pronunciation Therapy" will allow you to sound like the expert, the problem solver, the leader that you are!
And the Essential Thing for English Pronunciation: Muscle Training!
● "English Pronunciation Therapy" is a scientifically designed physical training program for improving your English pronunciation, speaking, and listening comprehension abilities.
● Practicing one sentence daily can help you develop your English aural and oral skills — physically and systemically.